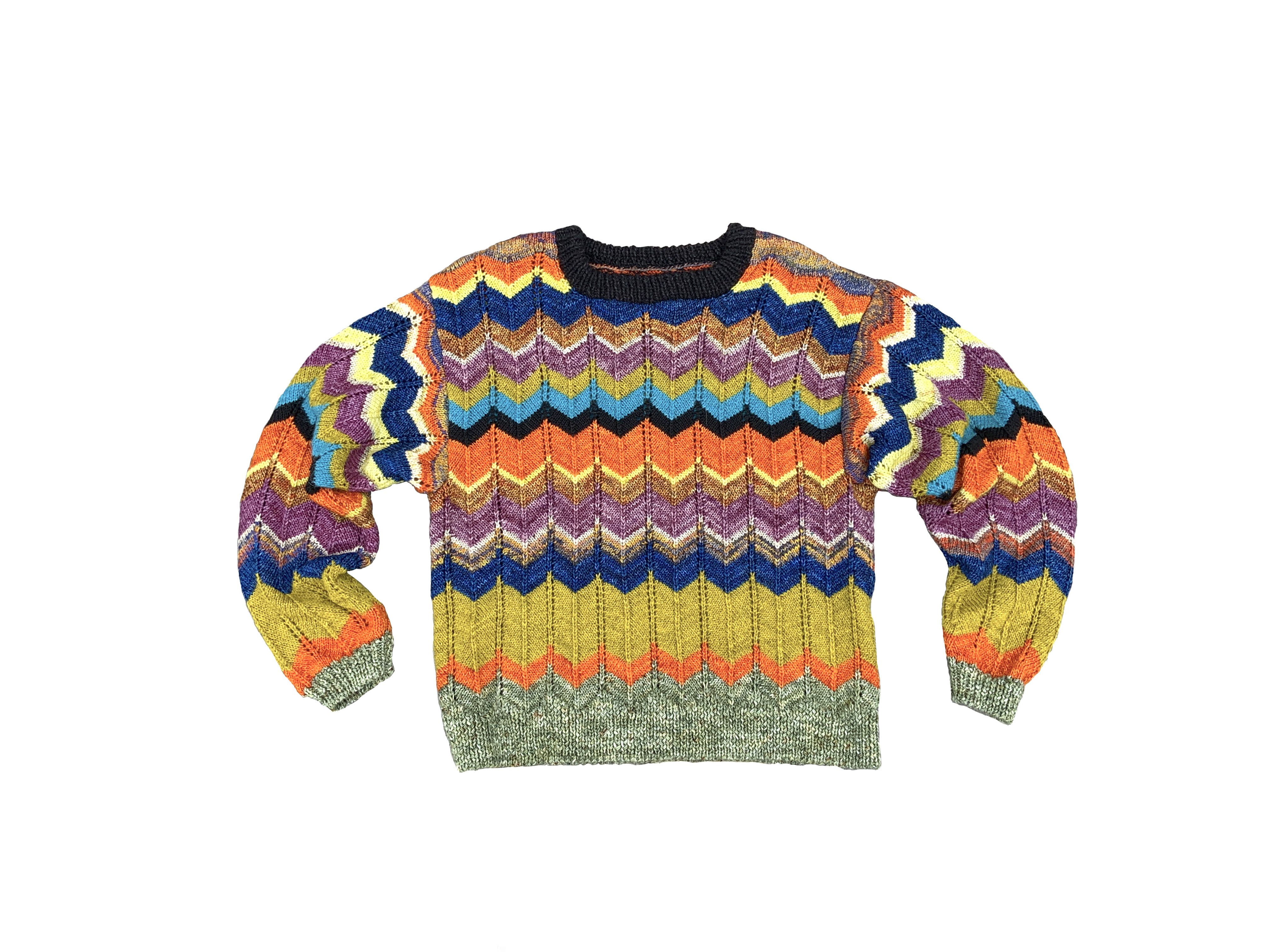 MiZZoni SWEATER
I talked a whole bunch on process in my Haystack post – so this will mostly be a pattern related and fit post!
CONSTRUCTION
The ultimate stash buster- so get out your favorite yarn bits and let's go! Beginning with a tubular cast on, this sweater body is knit from the bottom up in panels. The sleeves are knit separately from the top down as panels and finally the sweater is seamed up. The neck is a folded 1×1 rib.
FIT
I've in recent times been getting better about filming fit videos. So here's this one. I guess these try on videos are essentially a vlog so some of what you just read will be repetitive. Oh well.
On Tech Editing and Testing Patterns
This was my first pattern ever that I work with test knitters and I'm really glad I did. The wonderful person I work with to tech edit all of my patterns does a wonderful job helping me edit and grade but this pattern is a doozey. It's complicated when different things need to happen with different sizes. And its patterns like this one that make me want to write patterns in a different way, the way I write them for myself while Im knitting. To Illustrate the difference, see the below 2 sets of instructions that say the same thing:
Decrease 1 stitch every 3 rows maintaining the pattern
vs
Row 1 RS: K2, SSK, knit until 4sts remain, K2tog, K2
Row 2 WS: purl
Row 3 RS: knit
Row 4 WS: P2, P2tog, purl until 4 sts remain, SSP, P2
Row 5 RS: knit
Row 6 WS: purl
Repeat rows 1-6 x times
As you can see that second method is WAY longer and messy but it's how knitting patterns are written… and adding the zig zag made it harder.
SO all that to say, it was important to test this pattern and without the testers, the launch of this pattern would have been a nightmare- I understand why a lot of knitwear designers dont release complicated patterns like this.
I hope you will give this pattern a try and if you do please use #MiZZoniSweater and #DEGENMizzoniSweater and now that Im mentioning it, I should start a #DEGENsweater