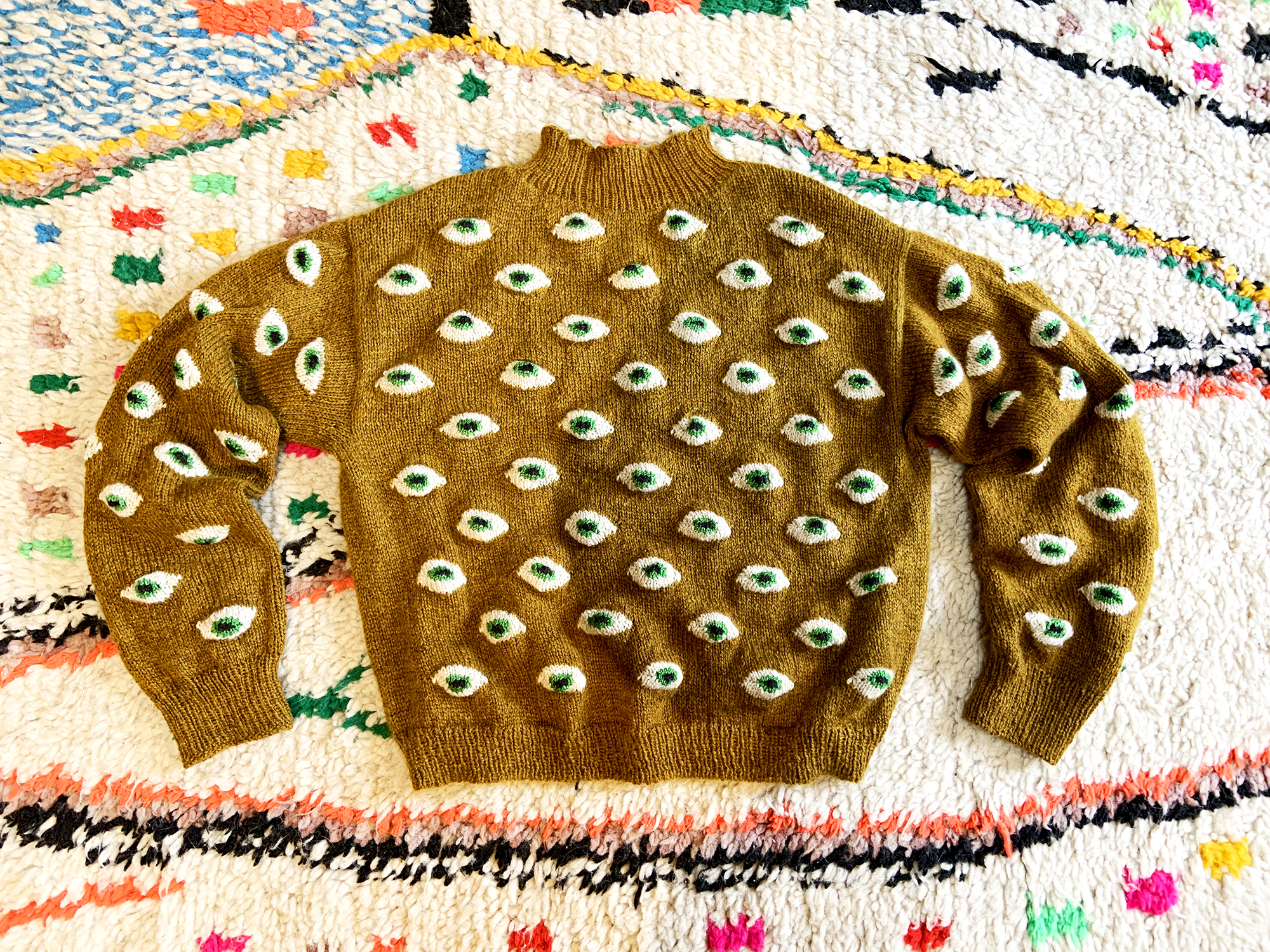 DEGEN ADULT EYES SWEATER PATTERN
Finally – what – took – me – so – long to make an adult eyes sweater pattern. As with the baby version I separated the eyes instructions from the sweater so that you can use the sweater as a base for your own color work and knitting adventures.
Construction:
I drafted the pattern on this one from the bottom up due to the orientation of the eyes but then realized that it would also work top down if you prefer to knit that way. I often prefer to knit top down as it allows you to commit to the fit later in the game (and you can even try it on). Beginning with a tubular cast on, this sweater is knit from the bottom up. The sleeves and neck rib are grown on to allow for more opportunities to check your fit.
Materials:
Yes I am a fancy ass bitch! I made this sweater in Sport Weight Cashgora that I bought @ Port Fiber . Cashgora is hand spun by a community of women in Tajikistan. I never win yarn chicken but check out how much yarn I ended with! Also this color is sooo golden. It can look brown or yellow but it catches the light perfectly regardless of the lighting scenario.
According to the site:
Cashgora refers to goats that are a crossbreed of Angora (mohair) and cashmere-producing goats. The resulting fiber produces a yarn with the best qualities of each goat breed – the strength and shine from Angora and the softness of cashmere. Though technically not as fine as cashmere, cashgora ranges between 18 and 23 microns, similar to the softness of Merino wool. This yarn is durable, less prone to pilling than cashmere, and gets high marks for drape in your finished product.
•1120 (1200, 1310, 1380, 1500, 1620, 1770) yards, or 4 (4, 5, 5, 5, 6, 6) skeins of main color- Cashmere for the People "Cashgora" Sport Weight. The sample is made in colorway "Tabac" (100g is approximately 300 yards)
•1 skein for white of the eyes- Cashmere for the People "Cashgora" Sport Weight. The sample is made in colorway "Pamirs" (100g is approximately 300 yards)
•1 partial skein for the Iris- this is a good stash buster! Approximately 200 yards needed The sample is made with Wonderland Yarns "Mary Ann" base (475 yrds 85% merino 15% nylon) in color Blimey #96
•1 partial skein for the pupil of the eye- this is also a great stash buster, less than 100 yards needed. The sample is made in colorway "Stonemason" (100g is approximately 300 yards)
Fit:
Fit notes: This sweater is a boxy- vintage fit that draws in at the waist/ bottom rib. The sizes are XS(S, M, L, XL, XXL, XXXL) Please see the fit chart below.
SAMPLE: The sweater pictured is size is a Medium
The Pleasure of Knitting This Sweater:
I know its my sweater pattern but I find this pattern really satisfying to knit because every 12 rows you have another eyeball row. That makes for 2 things that I love. Easy to bite off pattern chunks that make you feel like progress is being made AND periods of no thinking with periods of thinking. Thats why I like sock knitting, similarly zen. I will say that you have to be chill with a lot of end tucking but for me it only took 1 extra hour to tuck in all of the ends. I recommend using a latch hook to do that. I will be making a how-to video of this technique in the near future as soon as I figure out my technology!
PS: all of my patterns are now expertly tech edited by Dawn Catanzaro.