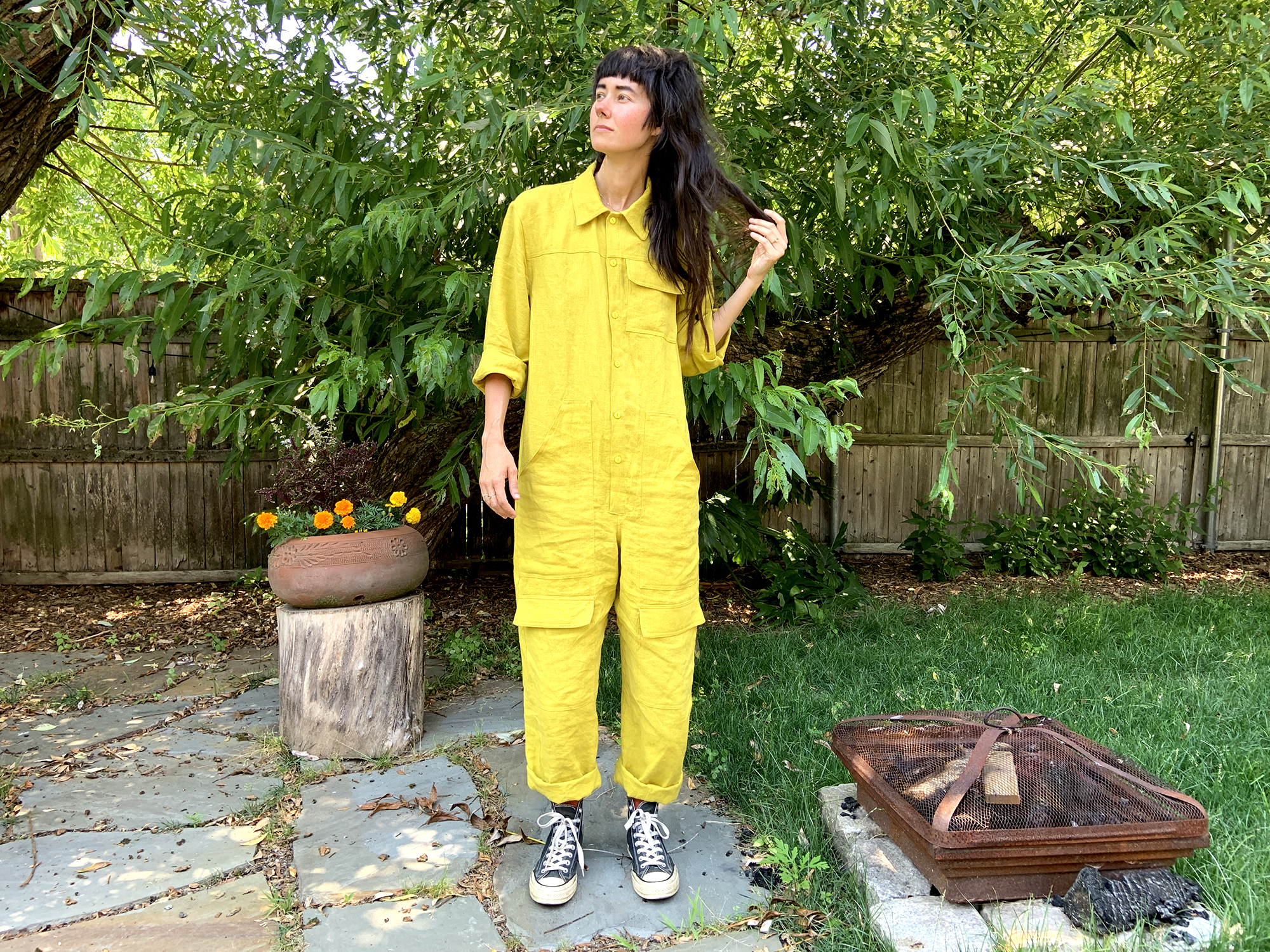 SIMPLICITY 8722 JUMPSUIT
When I saw @suechinglascelles version of this pattern, I knew I needed to make a version of my own immediately but then I saw the pattern cover and got worried.
The Pattern:
This pattern is Simplicities 8722 Costume pattern for some sort of uniform- is it Ghostbusters? I am not sure I got the reference but either way it freaked me out but delighted me that Sue could have such an amazing outcome with such a weird little pattern.
Mods I Made // Wish I Made:
I sewed up the size small in this pattern and was even good and made a toile of it first. For the toile I didnt cut the full sleeve or leg length because my main focus was to ensure the torso fit nicely. Sue told me that she made the size small so I followed her lead there. There are 2 main mods that I made for my version: 1. I used pockets from all of the views to create my favorite pocket layout. 2. I made the front placket into a button stand instead of using velcro which is very costume-y.
When I first made this toile, I felt like the torso would be just long enough and that maybe the sleeve was a bit strange but I'd figure it out when I came to it. Fast forward to the actual fabric garment- the torso is very long to accommodate wieners and things. I think the end garment looks really nice but the crotch feels a little low when wearing. Another mod I made was that I could not get the sleeve to fit in correctly so I just basted between the notches and fit it in that way. Maybe that is what you are supposed to do but vintage patterns leave a lot of technique up to the maker. Lastly, the pattern does not tell you how to finish any edge or seam so part way through I decided I would do felled seams but because I already had sewn the inseam it was way more challenging than it needed to be.
Fabric:
I bought this gorgeous 185g linen from Merchant and Mills in color Mr. Citrus without a project in mind. This project called this fabric into action. I am not typically a linen fan because I really don't enjoy the way it shifts as you are sewing or cutting it but this was a perfect fabric for this pattern. Sue made her's in a stiffer cotton twill type fabric and I also love the look there. Mine is a bit more breezy and her's is a bit more workwear.
Finishings:
I, of course, did not have the correct buttons but also cant figure out color online so I did what I always do which is buy too many options on Etsy and hope one works. I bought 4 options and one of them was so not an option, I didn't picture it above. The 1st // top option was the best color match, the 2nd option was my favorite button aesthetic but was the back of the button and had a little nub from the button mold on it, and the 3rd one was the highest quality button. I opted for the top one.
My favorite end to any project is hand stitched button holes and hand sewing on the buttons. It makes me feel like I finished it off nicely and also machine buttonholes make me scared I might mess up.
Learnings: This is cheesy but true- don't judge a pattern by its cover. This is a GREAT pattern but I definitely would not have purchased if it were not for Sue showing me the way. For future I hope to see the pattern for who they are on the inside. I cant wait to maybe make this again in a different bright color, maybe cotton next time.