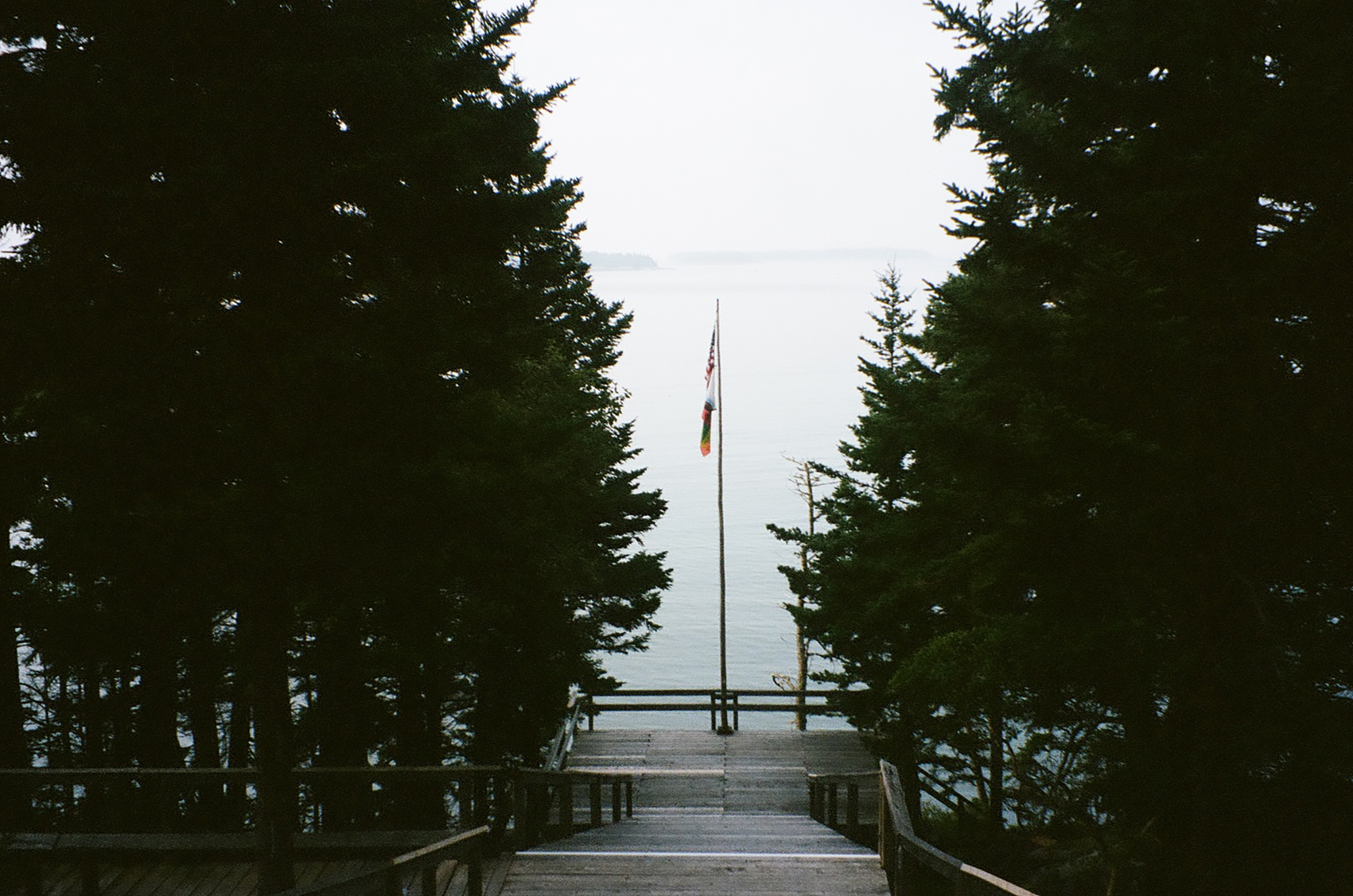 HAYSTACK RESIDENCY
In early 2020 I applied for the Haystack Mountain School of Craft's Annual Residency, a two week period of freedom in which you can do anything in any studio while being fed and accommodated. When I got in I was so excited- I had applied before and not been accepted. After visiting Arrowmont for a week in 2019 I realized that I wanted to do this type of art retreat yearly and everyone constantly talks about the transformative experience at Haystack and Penland. The pandemic cancelled the residency in 2020 though and it was unclear at the time if we would get the opportunity to go. In early 2021 we got an email asking if we would still like to go but it would be in August instead of May. Obviously I really wanted to go even though it would be the first time I was around people in a long time. SO I WENT August 1-13th.
I planned a hand knitting project- a version of my machine knit zig zag sweater- with the idea that if something else got me excited I'd abandon the idea. I ended up working a lot on that sweater. I could be found knitting everywhere around the campus.
But I did not know coming in that you could go into any studio and ask the tech-who is also an artist- how to do something and they would show you. This concept makes Haystack like a big art playground. At the beginning of the session Paul, the director, told us to not feel like we HAVE to do anything – no obligations. But I can't help put pressure on myself so I did want to finish that sweater AND play in the other studios.
Before coming to Haystack I had been avidly watching the incredibly dumb, hyper masculine show Forged in Fire and was really intrigued by the forge. Leslie, the technician at the Hot Shop was SO welcoming and showed us in an early demo how to make points, spirals, and a spoon. I HAD to make a spoon. and then I had to make another one, and then I had to make another one after that. I got really into the coal forge.
Bangin' on metal is the opposite of knitting both because of the medium- hard metal- and also because the intuition element. Knitting requires math, prep, and fine motor skills. Forging requires strength, speed, and intuition. You gotta bang on a glowing piece of metal with a heavy hammer to make it move.
I forged spoons, carved a wooden green wood spoon, and made some pinch pots. All things outside of the my comfort zone. It was the most fun to be an absolute beginner again. I can't recall the last thing I have tried where I was an absolute beginner. It's sort of hard to be an absolute beginner as an adult but also so rewarding. Doing all of those things was great when the knitting got tiring.
But throughout I pushed through the pain and did complete the sweater and I did a full photoshoot around the campus. I'll put a photo below but see more photos in the upcoming MiZZOni Sweater post. I'm choosing the one below due to the iconic-ly Haystack nature of the meal bell. It rang 3 times a day and we were treated to great food and conversation at family style tables.
I did make some things at Haystack and the list included some great friends. There were loads of fibers people and people from Providence. There was a contingent of academics and a contingent of craftspeople. And there were interesting dynamics between all of us trying to learn from each other.
Everyone exploring mediums that interested them but that they hadn't worked in before. Every studio had daily demos on different techniques. My favorite demo, other than Leslie's spoon demo, happened to be Annie Meyer's wooden spoon demo.
And obviously I have to show off my spoon- I made it on the last two days after thinking about making one the whole time.
Another highlight was Walker Mettling's Sketchbook Church which he held at the Library. Sketchbook church is a bunch of "brain melding" quick drawing games that result in some very odd and fun drawings. It's about drawing stuff you wouldn't think of, and even more about watching Walker in his element. So joyful.
I have a million more photos and so many amazing memories. Bringing film along was the best idea- it makes everything look very nostalgic- especially this photo of my cabin home #18. We didn't have to share due to special accommodations during the pandemic. They split the residency in half- group 1 was there just before us.
I hope to remain involved with the Haystack community- through teaching, visiting, encouraging others to apply. Such a special experience. I'll leave yall with a photo of beautiful architecture. The buildings all look like the below, this just happens to be the shared bathroom/ shower I used for my stay.