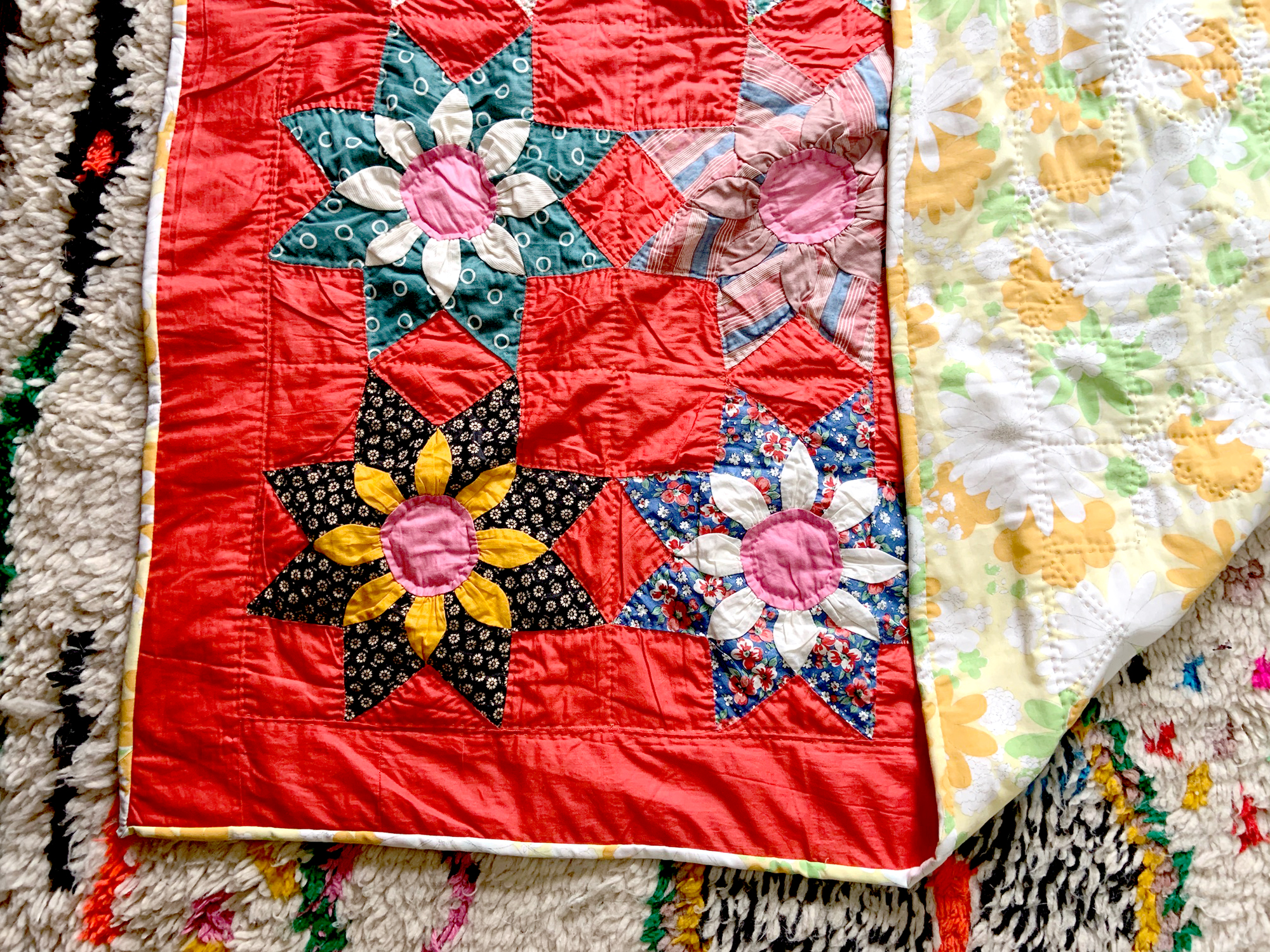 PARTIALLY MADE FLOWER QUILT
Just a short lil post on a quilt I finished but did not start: One day while mindlessly viewing stories on instagram, I came across Grace Rother selling off a quilt top. She would sell this quilt to a randomly selected person from the people who responded. I bought this quilt top which was basted and partially quilted for $250 which felt like a steal. Also- basting is one of my least favorite parts of the quilt-making process.
If you do not know Grace's quilts or social advocacy I highly recommend you check her site out. The project that got my attention was her Abolition Quilting Bee Quilts which she made in collaboration with 120 artists from North America. In her own words:
"These quilts gave us a chance at collective action in a time of prevailing solitude and isolation. Although we were not able to physically gather to quilt with one another in the style of a traditional quilting bee, for the duration of the making there was a strong sense of connection amongst the quilters. The final product is three quilts, lovingly made and ready for fundraising, but it is also a community of quilters who believe in the abolition of police and prisons. In the end our stitches bind us to our commitments and beliefs… but also to one another."
Back to the quilt that I was lucky enough to "win." When I received this quilt it was partially quilted by Grace and also the person she had received it from. According to Grace, she bought this top on Etsy but just did not get around to finishing it and wanted to re-home it. There was quilting in thicker yellower thread and single thread quilting in a more brown color. EDIT: it was all quilted by Grace! She put the backing on, basted it, and began all quilting. It was a great learning experience to see how the two one people [person] quilted. In all of my previous quilts I quilted around individual shapes. This quilt was made by following along the upper line of color (square, diamond, square diamond). See image below:
It truly felt "meant to be" with this quilt. The backing is a vintage sheet that I definitely would have chosen if I had the option. Such a cheery quilt. I loved this quilt from the moment I saw it but I felt surprised as I made it how much ownership I did not feel over it. Usually I am enthralled by finishing a quilt but in some ways this quilt didn't feel like mine to finish. It was sort of like doing someone a favor. I enjoyed the process but was less connected than usual. Despite not feeling fully connected, I am excited to live with this quilt. EDIT: after viewing this post Grace messaged me that she also did not feel totally connected. We determined that the original artist's hand and energy is very much alive today in this quilt, not allowing us to feel as connected.
Should I wash it though? Im not sure if all of the fabrics were pre-washed which makes washing now risky. The colors could bleed or it could shrink in an odd way…. Looking forward to living with this new roommate! Every time I look at this quilt I find something else I love about it.